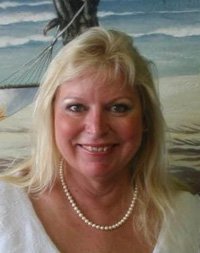 Terri White
terri@barkrealty.com
941-720-3670
Terri White is from a small town in the Midwest where people worked hard and watched out for their neighbors. Terri found small-town friendliness again when she and her husband, Jim, moved to Anna Maria 20 years ago.
After purchasing a full-time residence, they learned quickly that real estate investment on Anna Maria is smart business. They now own several rental properties as well.
Terri has been an agent with Bark & Company since 2004.
Before island life, Terri worked in corporate communications as editor of State Farm's national sales force magazine, as communications director for the American Apparel Manufacturers of America and in public relations with Scott Foresman Publishing. She also helped her husband with his restaurant business.
Terri is a graduate of Illinois State University and is proud to say she was once Future Farmers of America Sweetheart of the Year in her hometown of Cambridge, Ill.
As Terri likes to say, ""You can take the Midwestern farm girl out of the country, but you'll never move her off this island!'' With her knowledge of the island's best real estate deals, she can find you a place you'll also never want to leave.