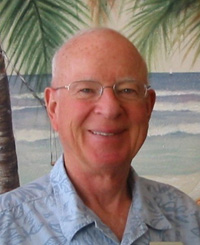 Ron Scott
scott@barkrealty.com
941-705-8383
Florida was always a dream. Ron and his wife Nancy knew Florida's Gulf Coast was where they wanted to live having spent several winter vacations there away from the cold and snow of up north.
Ron, a native of Philadelphia, and Nancy lived in several locations around the eastern U.S. before they finally found their way to sunny Florida and the city of Orlando. From there they would take weekend trips to explore the various Gulf Coast towns, seeking that perfect spot for them.
Finally, some friends in Sarasota told them about this wonderful island off the coast that they must visit. A short time later Ron and Nancy came for a weekend and knew they had found paradise. A few years and many visits later, career opportunities close to the island became available to them both and they eagerly moved to Anna Maria Island.
The Scotts found the perfect island home for them, a 1960's ground-level house, which they almost immediately began to completely remodel as one project led to another. They have been island residents since 2000 and count themselves as very fortunate to be able to call Anna Maria Island home, a sentiment heard frequently from just about all who live here.
Ron has been a licensed Florida real estate agent and Realtor with Bark & Company Realty since 2005. He previously worked in the convention and trade show business where he held numerous positions from operations to sales for various service suppliers and was instrumental in the start-up of a new convention facility.
Ron's career has been dedicated to helping clients achieve their goals. Having found his dream home, Ron is ready to help you find yours.