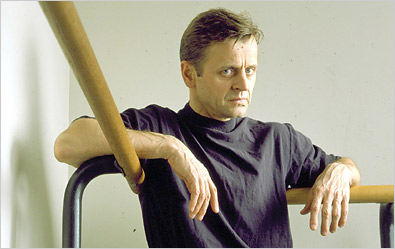 Mikhail Baryshnikov
By JANUARY HOLMES – jholmes@bradenton.com
SARASOTA — The second annual Ringling International Arts Festival will boast the kind of must-see, world-class fare that made it an overwhelming success last year. But this time around, the festival will serve as a centerpiece for a new fringe festival that will showcase local artists and events in both Manatee and Sarasota counties.
This is the first time the two counties have worked closely together for an event.
"I would like to think tonight that the border that exists just right outside this building is gone," said Dwight Currie, Ringling Museum of Art's associated director of museum programs, as he unveiled details of the festival's 11 main stage productions Wednesday night for a crowd at the Historic Asolo Theater.
As for the international festival, set for Oct. 13-17, the event features several United States and world premieres in theater, music and dance. Opening night festivities alone include four premieres at the Florida State University and Ringling Museum campus.
That evening will feature the much anticipated "Solos with Mikhail Baryshnikov and David Neumann" with a world premiere dance choreographed by Susan Marshall and the world premiere of "Capricho" by Florida native and Pulitzer Prize-winning playwright Nilo Cruz. The play, co-produced with the Asolo Repertory Theatre, is about an understudy who is waiting for his time to go on.