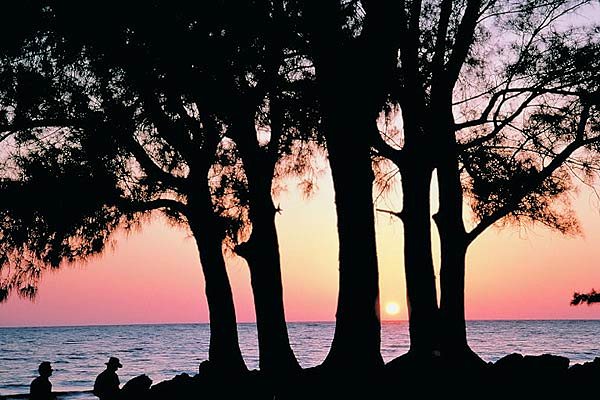 Sun Setting Through the Pine Trees Just South of the Sandbar Restaurant
By Jim Abbott, Orlando Sentinel
June 6, 2010
It only takes about three minutes for the sun to disappear after it touches the horizon, but perhaps nowhere on the planet is that time celebrated with more passion than Anna Maria Island.
Watching the sunset is a cherished ritual on this sleepy barrier island, about 20 miles west of Bradenton in Manatee County. Visitors and locals alike gather on the beaches to savor the dimming of the day, an ordinary event extraordinary enough to inspire spontaneous applause.
"In Anna Maria, the sunset is a celebration," says Kathy Wooten, manager of the Queen's Gate Resort, one of the many mom-and-pop hotels that dot the three towns — Bradenton Beach, Holmes Beach and Anna Maria — on the seven-mile slip of island. "If you come here, it's the one thing you have to do."
Clapping is optional, of course.
It always seems to happen, though, whether on a secluded stretch of sand or at the iconic Sandbar restaurant on the north end of Anna Maria. In this spot, diners have gathered to watch the ritual since 1913, when a restaurant known as "The Pavilion" entertained guests who could only reach the island by boat.
Nowadays, the Sandbar features dining either indoors or on an outdoor deck with some of the tables perched on the sand itself. Employees and patrons alike stop to watch the show on the horizon, which is acknowledged by the ringing of a bell — and applause, of course.