By Tom Vaught – Sun Staff Writer
June 2, 2010
They came to the beach this Memorial Day just like they have since the first bridge to the Island was built and they came despite the ongoing oil spill on the other side of the Gulf.
Memorial Day was a day to remember those who made the ultimate sacrifice, a day to forget the grim news headlines and a day to enjoy the beautiful weather on Anna Maria Island's beaches.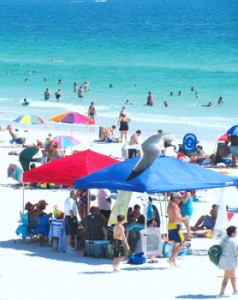 Beautiful Weather and Perfect Water Temperatures Kept The Beaches Full For The Entire Memorial Day Weekend
"We've had strong crowds of people all three days of the weekend," said Capt. Joe Westerman, lifeguard for the Manatee County Department of Safety stationed at Coquina Beach. "It's been busy, but we haven't had any big problems."
Meanwhile, businesses that deal with visitors to the beach were doing well.
"We've done real well this holiday," said JoAnne Spallino, who owns Joe's Eats and Sweets with her husband, Joe.
"This holiday was a lot busier than last year's."
Lauren Sato, co-owner of Beach Bum's in Anna Maria, said that they had a great holiday renting electric vehicles, bikes and beach related items.
"We had a record high for Memorial Day," she said. "The majority of our customers came from Bradenton, Apopka, Lakeland and Orlando."