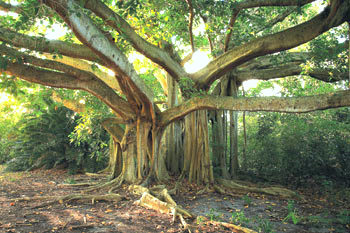 Holmes Beach photographer Craig Litten has published a book of photos on Anna Maria Island subjects, including this banyan tree PHOTOS/CRAIG LITTEN
Cindy Lane – Sun Staff Writer
July 7, 2010
HOLMES BEACH – Former photojournalist Craig Litten has published a book of photographs of Anna Maria Island focusing on the lesser-known angles of the much–photographed destination.
Artistic renderings of tree roots, power lines, clouds and beach toys add seasoning to familiar beach locales in the hardcover book, available from the author.
The book has been used by two bridal couples as a guest book for their Island weddings, said Litten, a Holmes Beach resident who has photos on display at The Back Alley on Bridge Street in Bradenton Beach and at Ginny and Jane E's in Anna Maria.
"I started shooting it because I was inspired by the Island," said Litten, who relocated here with his wife from Daytona Beach, where he worked for the News-Journal.
A Florida newspaper photographer since 1988, Litten estimates he has had more than 10,000 pictures published worldwide in newspapers, magazines, books and on the Internet.