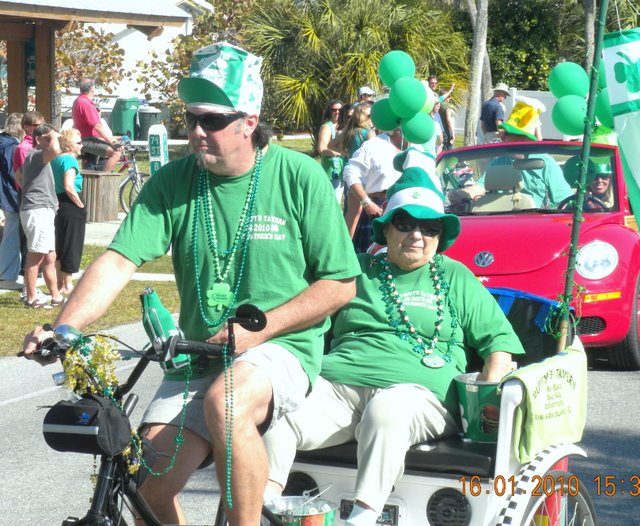 Ms. Duffy is driven in the parade by Rick Lewis in a Pedi-cab from Sarasota Pedi-cab Company
The Anna Maria Island Sun
The leprechauns were out in force last Saturday for the annual St. Patrick's Day Parade, sponsored by Beach Bistro restaurant.
Dozens of vehicles entered the parade, which featured an elephant. Bradenton Herald columnist Vin Mannix and Lanny Frattare, voice of the Pittsburgh Pirates, followed Judy, the 39-year-old Asian elephant, with shovels, just in case she had an accident. She didn't.
"Judy was a well-mannered lady," Beach Bistro owner and parade organizer Sean Murphy said. "It looks like Judy will be returning for next year's parade."
The parade appeared to be one of the longer ones the Island has seen lately. Murphy said it appeared to take up about half the distance of the parade route, from Holmes Beach City Hall to 79th Street.
Murphy said the parade probably wouldn't work anywhere else but Anna Maria Island.
"It was a great little parade in a great little community," he added. "I want to thank everyone who came out and made it happen."