The Islander Newspaper named Rhea Chiles and her son, Ed, Islanders of the Year for 2009. The award recognizes individuals for their unselfish contributions and genuine concern for making Anna Maria Island an even better place to live. We congratulate Rhea and Ed for this most-deserving recognition of their unyielding support for our community.
_________________________________________________________________________________
By Bonner Joy
The Islander – January 6, 2010
It was an idea of great joy to Rhea Chiles, and as it formed, evolved, mired and progressed, the idea became big.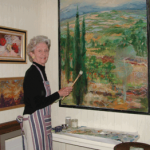 Rhea Chiles
It meant something big for Anna Maria Island to be host to the first lady of Florida, to have her return here to live after a time in the governor's mansion, after the death of Lawton Chiles very near the end of his last term.
Of course, AMI embraced Rhea.
But little did we know she had such a big idea for us, one that would bring us culture, education, arts and artists, and a sense of place in tune with nature and the beauty around us.
It came to be the Studio at Gulf and Pine, but it is a mirror of Rhea Chiles, a woman generous of her great intellectual gifts.
Ed Chiles
But take that gift and combine it with the generosity and vision of son Ed Chiles, who has developed his trio of restaurants into landmarks on Anna Maria Island and Longboat Key, and we have a legacy for the future.
Ed knows the value of investing in the community, of giving back to the organizations that help support youth sports, the elementary school and other worthwhile causes. Few, if any, who ask for help are turned away.
And while he may have competitors in business, none can argue with his generosity.