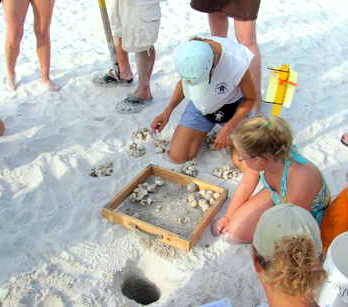 Turtle Nest
By. J. Hunter Sizemore, The Bradenton Herald
ANNA MARIA ISLAND — A distinct track in the sand, some dug-up plants and possibly a clutch of eggs are the only signs of a mother turtle's nocturnal visit to the beach.
But at sunrise twice a week, Tom and Lois Huntington pull on their Anna Maria Island Turtle Watch T-shirts and search for these markings by the pink glow of early morning.
From late spring to mid-fall, about 70 volunteers take turns searching Anna Maria Island's Gulf side beaches for turtle nests: marking them off, logging data and protecting them. The information is used to protect the turtle's nesting grounds from development and misuse that might further harm these already-endangered species.
Statewide in 2009, 2,748 people helped in some way to monitor the 800 miles of turtle-nesting beaches along Florida's coast. All of it is covered on foot or by all-terrain vehicle every morning from March to October, says Anne Meylan, a research administrator for Florida Fish and Wildlife Conservation Commission.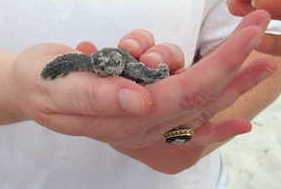 Baby Loggerhead Sea Turtle
This group includes some government and military employees, but it is largely made up of volunteer citizens.
"It's a partnership," Meylan said. "If it didn't exist, then collecting all of this data would be impossible."
As of Friday, volunteers had found 130 turtle nests on the island this season, and so far almost 1,100 baby turtles had hatched and made their way to the Gulf of Mexico.