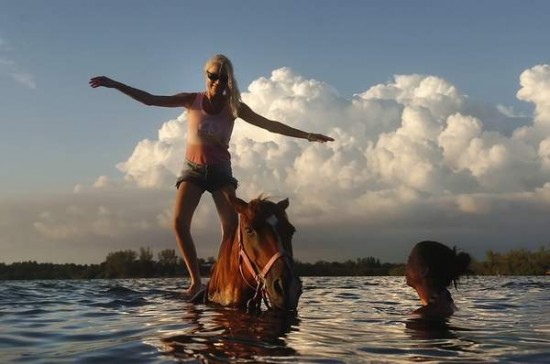 Check out this story about a new recreational sport for Anna Maria Island residents and visitors. "Horse surfing" is a test of balance you may want to try.
____________________________________________
By ALAN DELL – Sarasota Herald-Tribune
Published: Monday, September 14, 2009 at 1:00 a.m.
BRADENTON – The latest craze in the world of surfing does not require a board or big waves.
What is needed, however, is a tall horse, a calm bay, and balance and fortitude on the part of the surfer.
It is called "horse surfing," and if the "surfer" can remain standing upright on a horse's back as it navigates through the calm waters of Palma Sola Bay in Manatee County, patrons of the new sport say, the experience can be just as exciting as riding a board atop a monstrous wave.