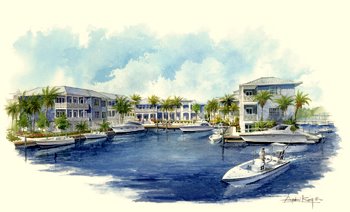 Buildings surround the marina in this architect's rendering of the Mainsail development in Holmes Beach.
By Pat Copeland – Sun Staff Writer
June 30, 2010
HOLMES BEACH – Joe Collier, president of Mainsail Development of Tampa, unveiled drawings by the architectural firm of Cooper, Johnson, Smith for the Mainsail Lodge and condos at 5325 Marina Drive.
"We should have construction drawings by early fall," Collier said. "Our goal is to have the building permit before the end of the year.
"We have a nice amount of reservations – about eight. We'll work on pricing over the next 30 to 45 days."
He said the Mainsail marina complex would have 37 units. In addition, there is a 62-slip marina with boats and fishing guides and a lodge is planned.
"We have been sprucing up the trailer there and added boats and lifts," he said.
Collier said the company has sold four units and is about to sell a fifth at the Beach Inn, its other Island condo complex at 101 66th Street. Units are being sold as a modified condo/hotel, and when the owner is not using a unit, it is a hotel rental.
The Mainsail Lodge and Marina, formerly the Tidemark Lodge and Marina, was begun by Nick Easterling in 2001. Easterling filed for bankruptcy in 2004 and in 2005, Reliance Realty Partners joined the project and the bankruptcy was resolved.