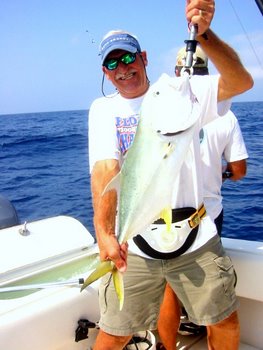 John Touchton lands an Amberjack
By Nick Walter Islander Reporter
White bait is creeping back into the area, and it could mean the transition from cut bait to live bait for fishers.
Small pinfish already are invading bays from offshore where there are reports of clouds of pinfish. Already there are glass minnows in the bays, so it shouldn't be long before they're followed by shiners.
With the bait will come more Spanish and king mackerel, as well as bluefish. There are reports of kingfish being caught from both Sunshine Skyway Bridge fishing piers and some anglers are reporting they've been spooled by king smokers.
Calm, warm weather also was timely for grouper fishermen, who took advantage of the opening of grouper season on April 1. Quality catches of grouper can be had in 60 feet of water, and the fish tend to favor live bait. April 1 also saw the open harvest of tarpon and bonefish.