By Tiffany Lankes – Sarasota Herald-Tribune
Published: Tuesday, May 4, 2010 at 1:00 a.m.
HOLMES BEACH – There was one place in Holmes Beach where residents knew they could get a captive audience with the mayor.
Over a burger and a cold beer, they could vent their concerns at Duffy's Tavern, where owner and former mayor Pat Geyer would always listen.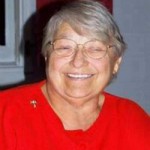 Miss Duffy - Pat Geyer
Everyone called her "Miss Duffy," because of her close connection to the tavern. She died Saturday at the age of 79.
"She was always very involved with the community," said her daughter, Pamela Geyer. "She called them all family."
Pat Geyer's story in Holmes Beach started in 1960, when she and her husband moved their family there from Cincinnati. The couple had been vacationing on the island for years and fell in love with its laid-back scene and beachy culture.
About a decade later, the family bought Duffy's Tavern, already an island institution that opened in 1958 in a cracker shack on the beach.
"My father worked the first 40 years of their marriage," Pamela Geyer said. "She figured she would work the rest of it."
Geyer used to joke that she bought the restaurant at 5808 Marina Drive to keep her five daughters out of trouble by putting them all to work at the restaurant.