By RICHARD DYMOND – rdymond@bradenton.com
MANATEE — A raisin and walnut pie brimming with milk chocolate and finished with a hint of cinnamon has helped an Anna Maria restaurant owner become a 2010 national pie champion.
Andrea Spring, co-owner with her husband, Ed, of Sign of the Mermaid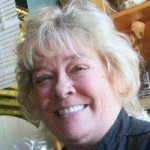 Andrea Spring
Restaurant on Gulf Drive, entered a chocolate raisin walnut pie that took Best in Show in the professional division of the 2010 Crisco American Pie Council Pie Challenge in Celebration, near Orlando, on Sunday.
"That raisin pie was to die for," Ed Spring said. "When they announced she had won, she screamed."
Spring captured first place in two of the contest's eight categories for pies this year, winning the raisin category and the cream category for her Hula Hula Pineapple Pie with fried pie crust.
"I am a 2010 national pie champion," said Andrea Spring on Sunday from Celebration, her voice a mixture of exhaustion and excitement.
When judges looked at all eight 2010 category winners, the chocolate raisin walnut creation was judged best of all eight.
There were 170 entries in the professional division, Andrea Spring said.