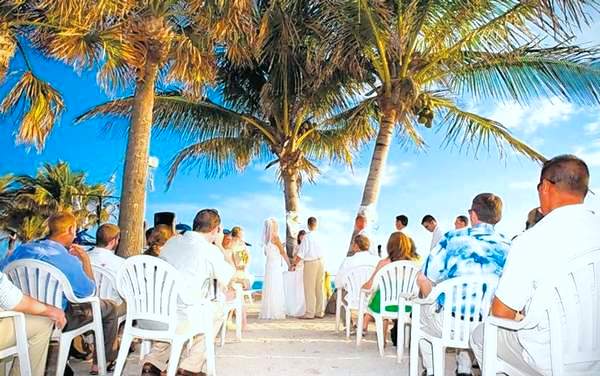 Knot magazine has named Anna Maria Island's Sandbar and BeachHouse to its 2009 "Best of Weddings" edition. PHOTO PROVIDED BY ISLANDPHOTOGRAPHY.ORG
By John Davis – Sarasota Herald-Tribune
Published: Monday, March 1, 2010 at 1:00 a.m.
Last Modified: Sunday, February 28, 2010 at 11:16 p.m.
ANNA MARIA ISLAND – Anna Maria Island has carved out a niche for itself as a Florida destination for beach weddings and, in a down economy, the expense saved by getting married outside has been a draw to many couples.
"We've seen more people interested since the recession because a lot of the larger hotels like the Ritz and places like that, they price themselves so high that they put themselves out of the reach of many people," said Michael Khouri of Classic Event Management in Bradenton. "But even though people have to keep it affordable, they still want something nice."
According to Caryn Hodge, coordinator of the Anna Maria Island Wedding Festival, the island sees 1,000 to 1,500 weddings a year. Sunday marked the third wedding festival, drawing an estimated 800 people, mostly brides-to-be and their friends.