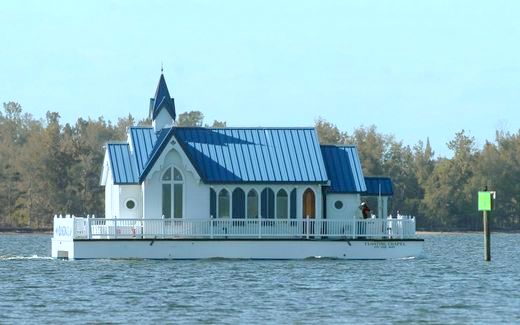 The Floating Chapel Makes Its Way Down The Intra-coastal
By JANUARY HOLMES – jholmes@bradenton.com
Anna Maria Island — Call it the Love Boat.
Jill Chandler-Fisher and Orca Fisher's vessel is not as big as the famous TV cruise ship, however, it's cute, classically romantic and a little more churchy.
The Fishers are owners of the "Floating Chapel on the Bay" — a classic-looking church with stained-glass windows, cathedral ceilings, old-fashioned pews that seat up to 100 people and a steeple that's as blue as the sea. It comes complete with a wrap-around deck, a bridal suite and twin engines to carry it through the Intracoastal waterway.
"The beauty of being able to cruise up and down the Intracoastal has literally stopped traffic," said Jill Chandler-Fisher. "People get out of their cars. They wave, take photographs."